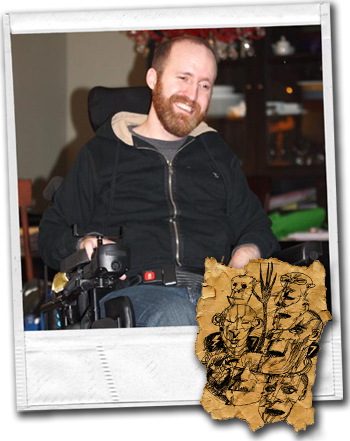 The Story of Jason Statts
On June 28, 2008, Jason Statts, a professional graphic designer, local musician and 1996 SCAD graduate, was a victim of a violent crime in Savannah, GA. Jason was shot point blank in the neck and suffered irreparable damage to his spinal column. Due to his injuries, Jason is a quadriplegic with partial use of his arms, and is no longer able to work. Despite government assistance, Jason struggles to cover his living and medical expenses. The Friends of Statts hosts fundraisers to help provide healthcare assistance – and better quality of life – for Jason. For more information, or to find out how you can help, please visit friendsofstatts.com, or contact us at friendsofstatts@gmail.com.
---
Obituary for Jason Statts
It is with heavy hearts that the family and friends of Jason Statts sadly announce the passing of their dear family member, friend, renowned artist, graphic designer, musician, and Savannah icon, Jason Statts. Jason passed away peacefully surrounded by family at Hospice Savannah on September 17th at 12:24 am. He is survived by his mother Janet Statts, older sister Misty Statts and younger brother Aaron Statts, Acworth, GA and stepsisters Jennifer Chadwick and Krista Briggs. He was preceded in death by his father Ronnie Statts and stepmom Glennis Briggs, Dallas, GA; grandparents Ralph & Margaret Statts, LaFayette, GA; and beloved role models/grandparents Wilma Ramsey Cameron and Julius "Foots" Cameron of LaFayette, GA.
Jason Howard Statts, born on September 6,1973 in Chattanooga, TN had a deep love and appreciation for all forms of art and music from an early age. Growing up in small town LaFayette, GA and later Kennesaw, he spent countless hours mastering the art of comic illustration, anatomy and other art forms while listening to his growing collection of beloved music. In high school, Jason excelled at both drawing and painting.
Jason attended the Savannah College of Art & Design where he was awarded a portfolio scholarship based on his talent. Midway through his college career, Jason married the love of his life, Lyra, in a small backyard garden ceremony at Nana and Pop's. In 1996, he graduated with a Bachelor of Arts degree in illustration and began working as a graphic designer in the communications department at SCAD. Jason also worked as a freelance illustrator, later accepting a position at BFG in Bluffton, SC as an art director and oversaw national advertising campaigns. You may have seen Jason's illustrations and designs in national and international magazines, Camel cigarette packs and tins and various liquor labeling.
Jason was an animal lover and provided a loving home for many different varieties through the years, including rescued greyhounds. He played bass guitar and was a member of several bands throughout his lifetime including El Toro, Surt the Destroyer and Full Nelson Freightliner. He followed many other bands in Savannah and beyond. Many members became beloved friends.
In June 2008, Jason was the gunshot victim of an armed robbery in Savannah, and as a result, he was a quadriplegic left with very limited use of his arms. Although many days were almost insurmountable, Jason was able to soar above the trauma of his injuries and his spirit continued to shine. During the last ten years of his life, Jason completed some of his most treasured work. He was able to review countless albums and movies, reviewing heavy metal music for 15 different magazines. While he still had use of his arms, Jason created digital artwork and completed a collection of ten short stories. He was also in the process of writing a book, however it's content and completion status remains unknown today.
At every juncture of his life, Jason made friends. He couldn't help it. His kindness and laughter were infectious. People instantly loved him and he them. Over the last 13 years, these friends, along with the local Savannah arts community and the Savannah community at large, rallied behind him to throw an annual benefit to help subsidize his ongoing medical bills.This year's annual event will evolve into a celebration of life, set to take place on Sunday, October 10th beginning at 3pm at Starland Yard. The Friends of Statts are working on the details on how best to remember Jason, his art, and his legacy.
To honor Jason, please consider donating in Jason's memory to Hospice Savannah Inpatient Unit (HIPU). The staff there were angels to Jason& his mom.Or, to the Humane Society of Savannah if you so choose.